06th June 2020 Current affairs & Daily News Analysis
Sixth mass extinction may be one of the most serious environmental threats
The ongoing sixth mass extinction may be one of the most serious environmental threats to the persistence of civilisation, according to new research published in the journal Proceedings of the National Academy of Sciences of the United States of America (PNAS)
About:
Names: This ongoing extinction of species, which coincides with the present Holocene epoch is known as Holocene extinction, Sixth extinction or Anthropocene extinction.


Background: In the history of Earth we've had five major extinction events in the history of life.

The five mass extinctions that took place in the last 450 million years have led to the destruction of 70-95 % of the species of plants, animals and microorganisms that existed earlier.


The most recent was about 65 million years ago when an asteroid crashed into the Yucatán [Peninsula] and took out the dinosaurs, changing the climate dramatically.






Important Info :
Sixth extinction vs earlier five extinctions
This ongoing extinction of species is a result of human activity. Earlier extinctions were caused by "catastrophic alterations" to the environment, such as massive volcanic eruptions, depletion of oceanic oxygen or collision with an asteroid.
The current rate of extinction of species is estimated at 100 to 1,000 times higher than natural background rates.
This large number of extinctions spans numerous families of plants and animals, including mammals, birds, amphibians, reptiles and arthropods.
Source : Indian Express (Environment)
Best UPSC Civil Services Current affairs
The Times Higher Education (THE) Asia University Ranking for 2020 was launched recently
About:
Times Higher Education (THE) is a weekly magazine based in London, reporting specifically on news and issues related to higher education.


The Times Higher Education (THE) Asia University Rankings 2020 use the same 13 performance indicators as the THE World University Rankings.


The universities are judged in four core areas: (1) Teaching, (2) Research, (3) Knowledge Transfer and (4) International Outlook.


Key Findings:
China is home to the continent's top two universities for the first time this year, as Tsinghua University is ranked 1 and Peking University is ranked 2.


With eight institutes in the top 100, India is the third most represented country in the Ranking.


The Indian Institute of Science (IISc) Bangalore retains its top position in the country by attaining the 36th spot globally. Eight Indian Institutes of Technology (IITs) have also been featured in the top 100.


Source : Indian Express (Education)
Best UPSC Civil Services Current affairs
At the virtual UK-hosted Global Vaccine Summit 2020, Prime Minister Narendra Modi announced that India will contribute $15 million to an international vaccine alliance, GAVI
GAVI
GAVI, officially Gavi, the Vaccine Alliance, is a public–private global health partnership with the goal of increasing access to immunisation in poor countries.


GAVI has observer status at the World Health Assembly.


It was founded in 2000 and is located at Geneva, Switzerland.


The Vaccine Alliance brings together developing country and donor governments, the World Health Organization, UNICEF, the World Bank, the vaccine industry, technical agencies, civil society, the Bill & Melinda Gates Foundation and other private sector partners.


Important Info :
Global Vaccine Summit 2020 London
At the summit, GAVI launched the 'Gavi Advance Market Commitment for COVID-19 Vaccines (Gavi Covax AMC)', a new financing instrument aimed at incentivising vaccine manufacturers to produce sufficient quantities of eventual COVID-19 vaccines, and to ensure access for developing countries.
The Gavi Covax AMC is being launched with an initial goal of raising US$ 2 billion.
Source : Times of India (International Relations)
Best UPSC Civil Services Current affairs
The Ministry of Statistics and Programme Implementation released the latest Periodic Labour Force Survey (PLFS). The survey was conducted during July 2018-June 2019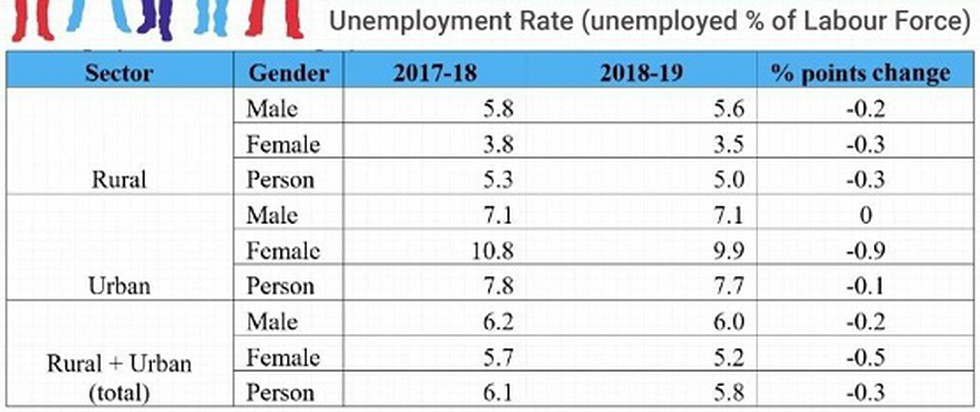 Key Findings:
India's unemployment rate improved from the 45-year high of 6.1% in 2017-18 to 5.8% in 2018-19.


Women's unemployment fell from 5.7% to 5.2%, while male unemployment only fell from 6.2% to 6%.


Urban unemployment was still at a high of 7.7% in 2018-19, a marginal drop from 7.8% in 2017-18, while rural unemployment fell from 5.3% to 5%.


The Labour Force Participation Rate (LFPR) also improved marginally, from 36.9% in 2017-18 to 37.5% in 2018-19.


Unemployment rate, however, rose among Scheduled Castes to 6.4 % from 6.3 %, and for Scheduled Tribes to 4.5 % from 4.3 %. But unemployment rate among Other Backward Classes inched lower to 5.9 % from 6 %.


In 2018-19, unemployment rate for youth in the 15-29 years age bracket was 17.3 %, as against 17.8 % a year ago. Unemployment rate among urban youth was higher than the all-India number at 20.2 % as against 20.6 % a year ago.


Important Info :
Labour Force Participation Rate (LFPR) is defined as the percentage of persons in labour force (i.e. working or seeking or available for work) in the population.
Worker Population Ratio (WPR) is defined as the percentage of employed persons in the population.
Unemployment Rate (UR) is defined as the percentage of persons unemployed among the persons in the labour force.
Source : Indian Express (Economy)
Best UPSC Civil Services Current affairs
Retirement fund body, Employees' Provident Fund Organisation (EPFO) said it has released Rs 868 crore pension along with Rs 105 crore arrear on account of restoration of commuted value of pension
About:
The government, had, in February this year notified the restoration of full pension after 15 years of retirement for pensioners who have commuted part of their pension at the time of retirement.


This has resulted in a substantial increase in pension for those EPFO pensioners who retired before September, 26, 2008 and had opted for partial commutation of pension. Commutation of pension will cost the government Rs 1500 crore.


The higher pension benefit will be restored after 15 years from the date of receiving commuted pension at the time of retirement. This means an individual who retired on April 1, 2005, would be eligible to receive the benefit of higher pension after 15 years i.e. from April 1, 2020.


Important Info :
As per Employees' Pension Scheme (EPS) rules, an EPFO member who retired before September 26, 2008 could get maximum one-third of pension as lump-sum i.e. commuted pension and remaining two-thirds was paid as monthly pension to an employee for his/her lifetime. As per current EPF rules, EPFO members do not have an option to receive the commutation benefit.
EPFO is an organisation under labour ministry that administers EPF and EPS schemes.
Source : Economic Times (Economy)
Best UPSC Civil Services Current affairs
Union Electronics and IT Minister announced three schemes, with a ₹48,000-crore outlay, for setting up of large number of electronic and mobile manufacturing units in the country
Production Linked Incentive Scheme (PLI) for Large Scale Electronics Manufacturing (outlay of nearly ₹41,000 crore)
The PLI Scheme shall extend an incentive of 4% to 6% on incremental sales (over base year) of goods manufactured in India and covered under the target segments, to eligible companies, for a period of five years subsequent to the base year.


Scheme for Promotion of Manufacturing of Electronic Components and Semiconductors (SPECS) (outlay of about ₹3,300 crore)
The SPECS shall provide financial incentive of 25% on capital expenditure for the identified list of electronic goods, i.e., electronic components, semiconductor/ display fabrication units, Assembly, Test, Marking and Packaging (ATMP) units, specialized sub-assemblies and capital goods for manufacture of aforesaid goods.


Modified Electronics Manufacturing Clusters (EMC 2.0) Scheme (about ₹3,800 crore)
The EMC 2.0 shall provide support for creation of world class infrastructure along with common facilities and amenities, including Ready Built Factory (RBF) sheds / Plug and Play facilities for attracting major global electronics manufacturers, along with their supply chains.


Important Info :
Benefits
The Schemes will help offset the disability for domestic electronics manufacturing and hence, strengthen the electronics manufacturing ecosystem in the country.
The three new schemes are expected to attract substantial investments, increase production of mobile phones and their parts to around 10 lakh crore by 2025. It will also generate around five lakh direct and 15 lakh indirect jobs.
Do you know?
According to Union Electronics Minister, India's global share in electronics has risen form 1.3 % in 2012 to 3 % in 2018. India has become the second largest manufacturer of mobile phones in the world. From just two mobile manufacturing factories, the country has now 200 such units.
Source : All India Radio (Economy)
Best UPSC Civil Services Current affairs
Russian President Vladimir Putin declared a state of emergency after 20,000 tonnes of diesel oil to spilled into Ambarnaya river, turning its surface crimson red
About:
Ambarnaya is a shallow river in Siberia, Russia which flows in a northerly direction into Lake Pyasino. On leaving Lake Pyasino, the waters emerge as the Pyasina River.


The Ambarnaya river is part of a network that flows into the environmentally sensitive Arctic Ocean.


Important Info :
May 2020 Diesel spill
On May 29, 2020, an estimated 20,000 tonnes of Diesel oil leaked into the river following the collapse of a power plant owned by Norilsk Nickel.
With a 12 km stretch of river seriously affected, Russia's president Vladimir Putin declared a state of emergency within Russia's Krasnoyarsk Region, located in the Siberian peninsula.
Source : Indian Express (Geography)
Best UPSC Civil Services Current affairs
Supreme Court ordered that a plea to change India's name exclusively to 'Bharat' be converted into a representation and forwarded to the Union government, primarily the Ministry of Home Affairs, for an appropriate decision
About:
The petition, seeks an amendment to Article 1 of the Constitution, to change India's name exclusively to 'Bharat'. It wants 'India' to be struck off from the Article.


Bharat and India are both names given in the Constitution. India is already called 'Bharat' in the Constitution. Article 1 of the Constitution, says "India, that is Bharat, shall be a Union of States".


Important Info :
Arguments By Petitioner:
'India' is a name of foreign origin. The name can be traced back to the Greek term 'Indica'. Instead, The word 'Bharat' is closely associated to our Freedom Struggle. The cry was 'Bharat Mata ki Jai'."
This will ensure citizens of this country to get over the colonial past and instil a sense of pride in our nationality. It will also justify the hard fought freedom by our freedom fighters
There should be uniformity in the name of the nation. There are many names of India like Republic of India, Bharat, India, Bharat Ganarajya, etc, thus creating confusion.
Arguments against:
The Supreme Court had dismissed a similar petition in 2016. Then CJI T.S. Thakur had said that every Indian had the right to choose between calling his country 'Bharat' or 'India'.
The name India derives ultimately from Sanskrit Síndhu which was the name of the Indus River as well as the country at the lower Indus basin.
Source : Times of India (Polity & Goverance)
Best UPSC Civil Services Current affairs
Prime Minister Narendra Modi condoled the death of veteran filmmaker Basu Chatterjee, the torchbearer of Hindi 'middle-of-the-road' cinema. He passed away due to age-related illness at the age of 90
About:
Basu Chatterjee (1930 – 2020) was an Indian film director and screenwriter.


Through the 1970s and 1980s, alongwith filmmakers such as Hrishikesh Mukherjee and Basu Bhattacharya, he was the torchbearer of Hindi middle-of-the-road cinemae. the light-hearted, middle class, family dramas that emerged as a parallel narrative to the more mainstream Angry Young Man movies.


He is best known for his films Chhoti Si Baat, Chitchor, Rajnigandha, Ek Ruka Hua Faisla etc.


He directed the TV Series Byomkesh Bakshi and the popular Rajani (TV series) for Doordarshan both of which were successful TV serials.


Source : The Hindu (Person in News)
Best UPSC Civil Services Current affairs
Pangong Tso is the site of eye-to-eye confrontation between Indian and Chinese troops, following a scuffle in early May. Both sides have ramped up their troop presence but "disengagement" process is also underway
About:
Pangong Tso is a long narrow, deep, endorheic (landlocked) lake situated at a height of about 4,350 m in the Ladakh Himalayas. It is 134 km long and 5 km wide at its broadest point.


In the Ladakhi language, Pangong means extensive concavity, and Tso is lake in Tibetan.


The brackish water lake freezes over in winter, and becomes ideal for ice skating and polo.


It is not a part of the Indus river basin area and geographically a separate landlocked river basin.


The lake is not a Ramsar site yet. It is in the process of being identified under the Ramsar Convention as a wetland of international importance.


Important Info :
Line of Actual Control (LAC) and Pangong Tso lake
The disputed boundary between India and China, also known as the Line of Actual Control (LAC), mostly passes on the land, but Pangong Tso is a unique case where it passes through the water as well.
The points in the water at which the Indian claim ends and Chinese claim begins are not agreed upon mutually. As things stand, 45 km-long western portion of the lake is under Indian control, while the rest is under China's control.
By itself, the lake does not have major tactical significance. But it lies in the path of the Chushul approach, one of the main approaches that China can use for an offensive into Indian-held territory.
Fingers in the lake:
The barren mountains on the lake's northern bank, called the Chang Chenmo, jut out like a palm and the various protrusions are referred to as 'fingers.'
While India claims that the LAC starts at Finger 8, China claims that it starts at Finger 2, which is presently dominated by India. India physically controls area only up to Finger 4.
Source : Indian Express (Geography)
Latest Current affairs